Load capacity statement
of structures...
Calculation of critical buckling forces and comparison of results with given loading conditions.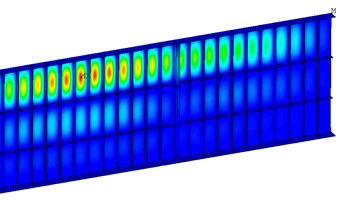 Advanced Engineering > Structural Analyses
Buckling Analyses
Structures which are exposed to large compressive loading can be analysed in perspective of critical buckling force and stress values. Platings and pillars that have large unstiffened length may expose to these buckling problems and need to be investigated. The critical buckling forces are calculated and the results are compared with the given loading conditions.
As examples to this kind of analyses following investigations on ship structures can be given,
Midship deck and bottom structure under vertical static and wave bending moment
Longitudinal and transverse bulkheads that can be exposed to compressive loads
Ship's main structural elements under compressive stresses





21.11.2011
We are participating to Abaqus Turkey Users Meeting.

Abaqus Turkey Users Meeting, of which Mesh Engineering & Software Co. is a regular participant, is going to be held on 17th-18th November 2011 in Istanbul Byotell. Details. >>
Related References
MSH-STR-103, 10000 DWT Tanker (Atlantik Miracle), Atlantik Denizcilik Tic. ve San. A.Ş., 2006
MSH-STR-102,20000 DWT Tanker (Letizia Effe), Soli Gemi İnşa San. A.Ş., 2006
MSH-STR-078, 7000 DWT Tanker (Amanda), Med Marine Holding, 2005
MSH-STR-072, 3500 DWT Tanker (Atlantis Alvarado), Gemak Gemi İnşaat San. ve Tic. A.Ş., 2004
MSH-STR-064, 15000 DWT Tanker (Fionia Swan), Kaptanoğlu Denizcilik Şirketler Grubu, 2004
MSH-STR-055, 7000 DWT Tanker (Morina), Deval Denizcilik ve Ticaret A.Ş., 2003