Impact Loadings: Investigating structures' behaviour…
Building's displacement in earthquake, automobile's pit fall, ship's bow slamming...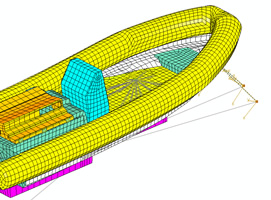 Advanced Engineering > Structural Analyses
Dynamic Analyses
This analysis type aims to investigate the behaviors of the structures under the time dependent boundary conditions and loadings.
Examples to dynamic analyses can be;
Earthquake dynamic analysis by applying time dependent earthquake displacement to a building's foundation
Vehicle chassis dynamic analysis by simulating the pit fall physical phenomena
Ship structure dynamic analysis under time dependent bow slamming pressures
Boat Shock Analysis Model
(MILGEM Project)
Watch the video

Shock Analysis Displacement
Results (NBC Unit)
Watch the video

Seismic Analysis
(Iran Water Research Building)
Watch the video

In the results of analyses, time dependent displacement and stress values at every node of the model can be obtained.








Shock Analyses
This analysis type investigates the dynamic responses of the entire structure or a part of it or equipment connected to the structure when they are exposed to shock loadings.
In case that the reducing the shock acceleration is in question, shock response spectrum given by the related and authorized society is applied to the structure and with chosen shock mounts, resulting acceleration values and reaction forces are reduced. Therefore final displacement and stress results are investigated.
21.11.2011
We are participating to Abaqus Turkey Users Meeting.

Abaqus Turkey Users Meeting, of which Mesh Engineering & Software Co. is a regular participant, is going to be held on 17th-18th November 2011 in Istanbul Byotell. Details. >>
Related References
Asilmarine - Boat Shock Analysis for MİLGEM, Asilmarine, 2009
Aquamatch - Reverse Osmosis Unit Shock Analysis for MİLGEM, Naturel Su Arıtma Tek. İnş. ve San. Tic. Ltd. Şti., 2008