Life cycle management
of structures...
Investigating life cycles of structures under periodical loading.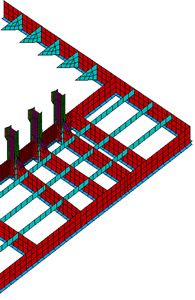 Advanced Engineering > Structural Analyses
Fatigue Analyses
These analyses are applied to structures that are under periodical loadings in order to investigate the life cycle of the structure.
The detailed junction spots which have large deformation capability can be investigated within these analyses.





21.11.2011
We are participating to Abaqus Turkey Users Meeting.

Abaqus Turkey Users Meeting, of which Mesh Engineering & Software Co. is a regular participant, is going to be held on 17th-18th November 2011 in Istanbul Byotell. Details. >>
Related References
MSH-STR-136, Çimtaş 1V-1302A/B/C - Moleculer sieve deyhydrators Fatigue Assessment Fatigue Analysis, Fatigue analysis, Çimtaş A.Ş., 2009
MSH-STR-048, Çimtaş 881 - Sour Gas Moleculer Sieve Vehicle Fatigue Analysis, Fatigue analysis, Çimtaş A.Ş., 2003
MSH-STR-005, Çimtaş D9309 - Lock Hopper Fatigue Analysis, Structural and Fatigue analysis, Çimtaş A.Ş., 2000